Houseboats the new business coming to Panama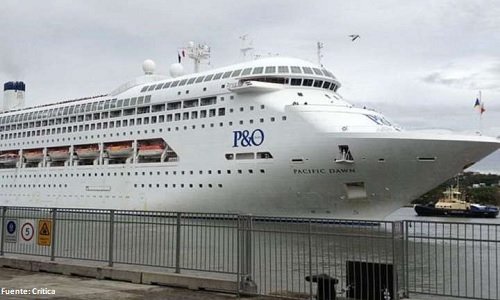 19/10/2020
A project to establish floating cities in the Gulf of Panama drives the company Ocean Builders. For this, it acquires cruises that it would sell as condominiums, reveals the publication Maritime Executive.
https://www.critica.com.pa/ – The company is owned by US businessman Chad Elwartowski, dedicated to the bitcoin business and pioneer of the 'Seasteading', a concept of creating permanent housing at sea. For this purpose, they have already bought the cruise ship Pacific Dawn.
We hope to create a technology and innovation center here in Panama. Our goal is to discover how to live sustainably in the sea and draw new waters in this new frontier '. He says the goal is to be a technology incubation center for entrepreneurs, expats, digital nomads and cryptocurrency companies who want to test their technology in a controlled environment. In addition, for residents, Ocean Builders says vacation rentals will be available on the boat and will offer areas for research and office space.
In the well-known 'Cryptographic Cruise', Ocean Builders plans to start auctioning cabins on November 5. The cabins plan to sell them 'in a way like a condominium'. Buyers will acquire total and indefinite ownership of their cabin by paying a monthly fee to cover operating expenses and subject to condominium-style rules.
The first sale will consist of 200 cabins in auctions scheduled for 5-28 November. Tentatively priced between $25,000 and $50,000. A total of 777 cabins will be available for a total occupancy of 2,020 people.
Residents will have access to all the amenities of the boat, from restaurants to bars, lounges and casinos, as well as the gym. The commercial space will be operated by individual companies and Ocean Builders hopes to attract business owners to operate those spaces while living on board.
The company also developed another houseboat project in Puerto Lindo Portobelo in what they call Linton Bay.
In the same way they announce the project 'Sea Pod' with floating houses on the shores with smart home technology and are promoted at a price of $ 195 thousand.
See the original article at: https://www.critica.com.pa/
RELATED NEWS
24/11/2020
External attacks on companies cause the most expensive losses of cyber-insurance. However, it is the mistakes of employees and technical problems that generate the most casualties by number. [...]
24/11/2020
La Línea naviera observó marcada recuperación de los volúmenes transportados [...]
24/11/2020
The US government is aware of at least 20 fishing vessels and 35 oil rigs and offshore supply vessels that have been targeted by pirates and armed thieves since January 2018 in the Bay of Campeche, south of the Gulf of Mexico, according to a maritime alert issued between 5 and 7 November this year; currently cancelled. [...]
24/11/2020
Beyond the scientific challenges in the development of these drugs, the eventual overcoming of the pandemic involves solving problems in the transport and effective distribution of these. How will this task be done? [...]