Open questions on the first reinfection aggravated by COVID-19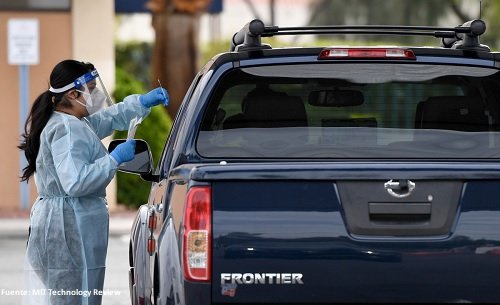 20/10/2020
The case of the patient infected with two coronavirus strains and with a worse evolution in the second shows how little we know about the virus. How long does immunity last? What does it mean for developing treatments and vaccines? Will we need an annual dose instead of a single vaccine?
https://www.technologyreview.es/ – The news: According to the study published in The Lancet Infectious Diseases, in just two months, a US man contracted the coronavirus (COVID-19) twice. That officially makes him the fifth person to have contracted the coronavirus for the second time, after the cases recorded in Hong Kong, Belgium, Ecuador and the Netherlands (and there will surely be more that we do not know about). However, the strange thing about this new case is that the patient has been worse the second time. His doctors compared the virus genomes of the two diseases and found that they were too different to have been caused by the same infection. There is only one other registered case in which the same thing happened: that of Ecuador.
Details: The 25-year-old man tested positive for the first time on April 18, after suffering symptoms for several weeks (sore throat, cough, headache, nausea and diarrhea). He felt fully recovered on 27 April and tested negative for the virus on 9 and 26 May. But only two days later, on May 28, he again developed symptoms, this time with fever and dizziness as well. He tested positive on 5 June and had to be admitted as his lungs could not carry enough oxygen to his body, causing hypoxia and shortness of breath. He had no previous pathologies. The man has already recovered.
What it means: contracting the virus once does not eliminate the possibility of suffering the disease again, even though these cases are still extremely rare, as there are only five identified of the almost 40 million confirmed cases worldwide. That means that people who have had COVID-19 still need to be careful, follow advice on social distancing, wearing masks, and avoid crowded and poorly ventilated spaces.
The news is not entirely unexpected: coronavirus experts warned that other coronaviruses, such as the common cold, are seasonal. However, there are still many questions that researchers want to answer as soon as possible. How much protection does COVID-19 entail? Does this protection come mainly from antibodies or T cells? How long does the protection last? What does that mean for medical treatments and developing vaccines? May we all need an annual dose instead of a single vaccine? Anyway, this new case is a reminder of how much we still don't know about this virus.
See original article at: https://www.technologyreview.es/
RELATED NEWS
24/11/2020
External attacks on companies cause the most expensive losses of cyber-insurance. However, it is the mistakes of employees and technical problems that generate the most casualties by number. [...]
24/11/2020
La Línea naviera observó marcada recuperación de los volúmenes transportados [...]
24/11/2020
The US government is aware of at least 20 fishing vessels and 35 oil rigs and offshore supply vessels that have been targeted by pirates and armed thieves since January 2018 in the Bay of Campeche, south of the Gulf of Mexico, according to a maritime alert issued between 5 and 7 November this year; currently cancelled. [...]
24/11/2020
Beyond the scientific challenges in the development of these drugs, the eventual overcoming of the pandemic involves solving problems in the transport and effective distribution of these. How will this task be done? [...]