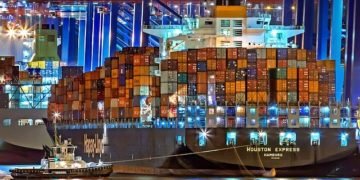 [:es]23/06/2020
El documento también analiza el desarrollo de la iniciativa de China «Belt and Road» y el transporte marítimo en el Ártico, y también analiza la predicción de las estrategias comerciales formuladas por la industria, como las aplicaciones económicas. Escala, integración vertical, transporte de valor agregado y digitalización, presentaremos estos aspectos a continuación.
www.mundomaritimo.cl – Anteriormente, Mundo Marítimo revisó las conclusiones futuras sobre la demanda marítima en el informe de la mesa redonda «Flujos de comercio marítimo futuro» 178 presentada por el Foro Internacional de Transporte (ITF) el 9 de junio, que fue preparada por Olaf Merk Escrito.
El informe señaló que la búsqueda de economías de escala siempre ha sido «indudablemente la principal estrategia comercial del transporte marítimo», con el enfoque en minimizar los costos en lugar de maximizar los ingresos y el precio en lugar de la diferenciación de servicios, y la mercantilización resultante es más dominante que la segmentación del mercado.
El uso de esta estrategia ha llevado a la continua expansión de los buques en las últimas décadas. Con algunas excepciones, ha producido el conocido efecto de cascada, ajuste de puertos, integración y concentración de la industria (la cuota de mercado de las cuatro principales compañías navieras es casi del 60%) y global. El surgimiento de alianzas y la continua sobrecapacidad.
Según el informe, la estrategia de economía de comercio a escala «puede haber alcanzado su límite» porque no tiene mucho sentido económico para los transportistas ordenar barcos más grandes. A medida que aumentan los barcos, los ahorros asociados con la reducción de los costos unitarios disminuyen. Además, el documento explica que los costos adicionales asociados con estos buques de mayor tamaño superan con creces estos ahorros.
Consulte el artículo completo y original en: www.mundomaritimo.cl
[:en] 23/06/2020
The document also discusses the development of the China Belt and Road initiative and Arctic shipping and discusses the prediction of business strategies formulated by industry, such as economic applications. Scale, vertical integration, value-added transport and digitization.
www.mundomaritimo.cl – Previously, Maritime World revised the future conclusions on the maritime claim in the report of the round table 'Future maritime trade flows' 178 presented by the International Transport Forum (ITF) on 9 June, which was prepared by Olaf Merk Written.
The report noted that the search for economies of scale has always been 'undoubtedly the main commercial strategy of shipping', with the focus on minimizing costs rather than maximizing revenues and price rather than differentiating services, and the resulting commodification is more dominant than market segmentation.
The use of this strategy has led to the continued expansion of ships in recent decades. With some exceptions, it has produced the well-known cascade effect, port adjustment, integration and industry concentration (the market share of the four major shipping companies is almost 60%) and global. The emergence of alliances and continued overcapacity.
According to the report, the strategy of economy of trade at scale «may have reached its limit» because it does not make much economic sense for carriers to order larger ships. As ships increase, the savings associated with the reduction of unit costs decrease. In addition, the document explains that the additional costs associated with these larger vessels far exceed these savings.
See the full and original article at: www.mundomaritimo.cl
[:pb]23/06/2020
O documento também analisa o desenvolvimento da iniciativa da China " Belt and Road" e o transporte marítimo no Ártic, também analisa a previsão de estratégias comerciais formuladas pelo setor, como aplicações econômicas. A escala, integração vertical, transporte de valor agregado e digitalização são aspectos apresentados abaixo.
www.mundomaritimo.cl – Anteriormente, o Mundo Marítimo analisou as conclusões futuras sobre a demanda marítima no relatório da mesa redonda «Futuros fluxos do comércio marítimo» 178 apresentado pelo Fórum Internacional de Transportes (ITF) em 9 de junho, preparado por Olaf Merk.
O relatório observou que a busca por economias de escala sempre foi "sem dúvida a principal estratégia comercial do transporte marítimo", com o objetivo de minimizar custos em vez de maximizar renda e preço e de diferenciar serviços, e a mercantilização resultante é mais dominante do que a segmentação de mercado.
O uso dessa estratégia levou à expansão contínua de navios nas últimas décadas. Com algumas exceções, produziu o conhecido efeito cascata, ajuste de porto, integração e concentração da indústria (a participação de mercado das quatro principais companhias de navegação é de quase 60%) e global. O surgimento de alianças e a sobrecapacidade contínua.
Segundo o relatório, a estratégia de economia de escala "pode ter atingido seu limite" porque faz pouco sentido econômico para as transportadoras encomendar navios maiores. À medida que os navios aumentam, as economias associadas a menores custos unitários diminuem. Além disso, o documento explica que os custos adicionais associados a esses navios maiores superam em muito essas economias.
Veja o artigo completo e original em: www.mundomaritimo.cl [:]