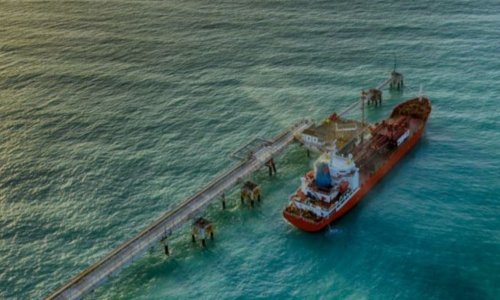 Beyond the Covid: The resilience of marine insurance
In this blog we review the publication of Concirrus on the resilience model of the marine insurance business, beyond the Covid19. For the original document go to https://www.concirrus.com/marine-insurance-business-resilience-blueprint-2020?
An industry on the cusp of transformation
There are many adjectives that point to Richard Turner, President of the International Union of Marine Insurance (IUMI), to summarize the last six months from a socio-economic and health perspective: 'unprecedented', 'seismic', 'challenging', historical'. But it selects 'challenging' in its attempt to outline the changes that are currently taking place in the industry, some of which are here to stay permanently.
For Turner in most cases, the Covid-19 has not caused the profound changes we are seeing in the industry, although it has shaken and shifted the trajectory of the path followed so far. Several pressing challenges then emerge, as mentioned below:
Operational change
Insurers, brokers, reinsurers and service providers have had to adopt remote working practices without prior notice. For example, London, an important trade benchmark, has operated for decades based on face-to-face negotiations. Eliminating this personal aspect of daily operations is a big challenge, but the industry has done very well so far.
New accumulations of risk
The commercial performance of marine insurance is directly related to the level of goods transported worldwide. With the World Trade Organization (WTO) forecasting a 13% year-on-year decline in world trade as a result of COVID 19, we can predict that there will be reductions in premium volumes in the maritime insurance sector, although the precise impact is not yet clear.
COVID-19 is not really causing any direct physical damage, but it is generating a build-up of risk due to ships being stuck in port areas. The level of international trade in the coming months will show whether the situation is having a long-term impact.
Increasing pressure to transform
According to Lloyd's of London, the estimated underwriting losses for 2020 covered by the insurance industry as a result of COVID 19, together with declines in investment portfolios, could generate a total projected loss for the insurance industry of around $ 203 billion. Marine insurance is not immune to this because the magnitude of the industry's impact will affect all kinds of businesses, even those with a more limited claim activity attributable to COVID-19. Given that marine insurance has recently been one of the worst outcomes in the insurance sector, there is correspondingly greater pressure to reverse the short-term performance of the product line and find ways to transform.
The COVID-19 has certainly accelerated the pace of transformation within the industry, but it has not changed the overall direction of travel. Key success factors will be:
Data and digitization: The tools available to subscribers are increasingly powerful, providing data-based information and knowledge on risk assessment, insurance pricing and portfolio management.
Global vs. local: COVID-19 has exposed the weaknesses of global supply chains, possibly initiating a kind of shift against the long-term drive towards globalization and restoring demand for more localized (perhaps simpler) supply chains. This could have consequences for the risk profile of the sector.
Environment and climate change: The shipping, transport and logistics industries are heavily dependent on fossil fuels. Sustainability will become a key factor and, as a result, some segments may become more difficult to secure (an early example is the coal industry).
The new 'office': The traditional office has largely disappeared, albeit temporarily, in recent months. However, a look at the future (post COVID) suggests that 100% of the time will not be worked remotely. New and hybrid forms of work and collaboration will emerge to unite people within the market.
Education and skills: The industry needs to rethink the skills needed to succeed in the future and it will not necessarily be the skills that have helped us succeed in the past. The 'art' of our business will not be entirely replaced by a purely scientific approach. However, the key to effective maritime insurance operations will be to do both well: what is the best way to combine the art of subscription with data science.
1. Shedding light on the unknown
At the beginning of 2020, the maritime sector, like the rest of the world, launched into the unknown causing seismic pressures on the industry. During the last six months, in addition to COVID-19, it was also evident: an 'Order not to sail' on cruise ships; significant reduction in oil prices; seafarers stranded at sea for months with no way back home; a hurricane season above normal; MV Wakashio landing off the coast of Mauritius; the Beirut explosion and more, all of which has affected the behavior of the boats in very different ways.
Short-term losers
VesselsValue's chief operating officer, Tom Evans, describes the cruise industry as the 'biggest loser of COVID'. He continues: 'The demand for cruise ships fell off a cliff with our utilization rates plummeting from 90% before the COVID to 40% today. However, these figures hide the full extent of the impact of cruise demand, with almost all currently used vessels operating in businesses that do not generate revenue, such as tray repositioning, shipyard visits, demolitions or the like'.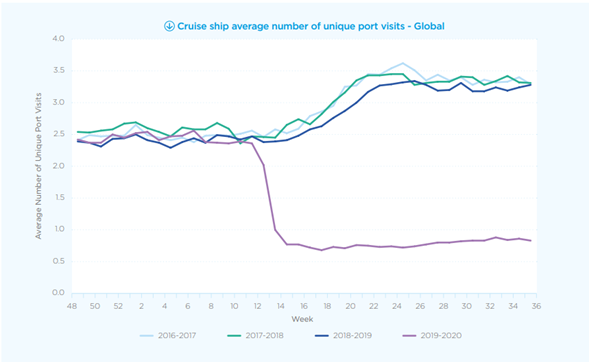 Short-term winners
The most obvious winner was the crude oil market with an incredibly positive first half through 2020. In August, it was seen that those same 15-year-old boats sold for around US$25 million. These drops in value are the result of a reduction in demand for vessels caused by the termination of the oil pollution, eliminating the need for short-term storage contracts and creating an oversupply of tonnage for the transport of still-restricted oil production.
A stable bulk carrier market
Curiously, bulk carriers have not experienced reductions in the scale observed in other areas of transport, and visits to average single ports remain relatively constant throughout the year. At their lowest level, they were reduced by 11.9%, however, the change was short-lived, and activity returned to normal fairly quickly.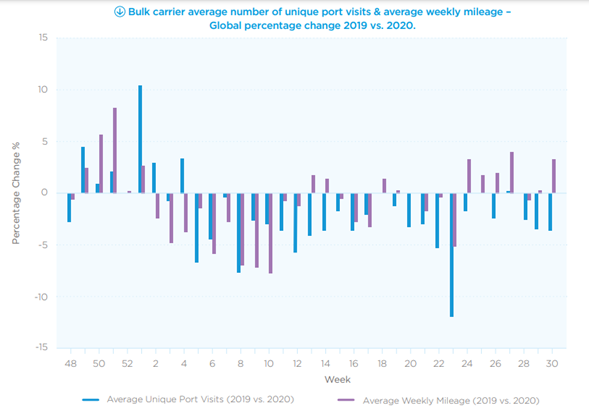 An adaptable rescue market
Richard Janssen, CEO of SMIT Salvage and President of International Salvage Union, points out that it has been an interesting six months for the salvage market. 'To operate successfully in the salvage market, the basic principles of companies must focus on speed and agility, so many might argue that we are well positioned to deal with an emergency or crisis response. That said, the COVID-19 pandemic has created unique and challenging situations that have hampered our ability to continue to comply with those basic principles while ensuring the safety of our people.
Can weather data match the COVID challenge?
Dr. Martin Fengler, Executive Director of Meteomatics, believes that the COVID-19 pandemic has deeply affected the travel, shipping and aviation industries with a less publicized, but nevertheless strong, impact, that the weather forecast industry is feeling which, in turn, has had an at-risk influence on the maritime industry.
'We have witnessed a powerful chain of events that have discovered how closely interconnected these industries are and how they will need to collaborate very closely to address the challenge of 'New Normality''.
Immediately after the introduction of the blockade and travel restrictions worldwide, the volume of airborne data supplied by aircraft, as well as data received from ships, was significantly reduced. As a result, the reliability of weather forecasts has been reduced, as pointed out by the European Centre for Medium-Term Weather Forecasts (ECMWF).
'The maritime industry is highly exposed to the climate and the quality of weather forecasts significantly affects sea wave models and the optimization of the boat route, says Dr. Fengler. 'For example, the route of a ship from Rotterdam to Savannah, Georgia, is optimized by an algorithm that is designed to bypass storms and other severe weather conditions in the Atlantic Ocean, and calculate the best route from a fuel consumption and cost efficiency perspective.
2. The changing face of risk
Jonathan Humm, Class Underwriter at AEGIS London recently noted that 'this pandemic has shown us a world that was previously unthinkable and has caused everyone in the maritime insurance space to sit down and think about what we are ensuring, despite all the focus on speed and efficiency, has a single virus that has stopped an industry in its path. Despite the enormity of the challenges presented by COVID-19, Jonathan likes to believe that the industry has responded positively and empathetically.
An opportunity to rethink the supply chain
Given the very nature of the risk in the maritime industry, Patrizia Kern, Marine Director of Swiss Re Corporate Solutions, believes that the industry has undergone an unprecedented change that has been caused (overall) by three factors.
She explains: 'The first is a high level of seafarers' fatigue due to limited crew changes on ships. With up to 70% of claims that are normally the result of human error, we are likely to see an increase in claims. Second, there has been an aggregation of risks in ports and anchorages with many cruise ships unable to operate, as Concirrus pointed out. And finally, when the ships were damaged, the delivery of spare parts has taken much longer than usual, causing more delays and costs.
Therefore, we must rethink the actions of the supply chain and the maritime industry.
3. The remote job is here to stay?
In September 2020, Lloyd's of London reopened the doors of its famous subscription room after nearly six months. Now that they operate at only 45% of their capacity, there are strict new rules for brokers working in the insurance market, which certainly creates a very different working environment. The question is, will we see the subscription room return to 100% capacity where, on an average day, about 7,000 people would be using the building on Lime Street? The short answer, according to CEO John Neal, is no.
Quoted recently in Insurance Insider, Neal talks about 'wrecking the subscription room' and paving the way for a more flexible working environment with plans to present concepts to the market for their feedback in the first quarter of 2021. This is a clear indicator to the market that, for Lloyd's, some form of remote work is here to stay.
Since most people now work from home, operational efficiencies can certainly be obtained from lower travel and entertainment costs and (potentially) a reduced office real estate footprint. John says, 'As a result, we can expect insurance products to be more cost-competitive.
However, some aspects of the marine insurance business require an in-person approach, with agents or brokers often finding it necessary to carry out the most complex stages of the sales process through face-to-face meetings.
As in most industries, maritime insurance businesses rely on informal connections and conversations. Knowledge of 'who's who', common mistakes or unwritten rules can only be acquired through unofficial experience and interactions. 'These have become more difficult to perform and can certainly not be replaced by email, phone calls or virtual meetings', says John.
As an industry, we need to think about how these informal flows of market intelligence or industry news can flow into the post-VOVI world.
The rise of online training
It is encouraging that, despite some of the challenges mentioned above, John has seen enormously positive trends as a result of people working remotely. He comments: 'One of them is the growing appetite for knowledge and formal training. Before COVID, remote attendance at our training classes (conducted in parallel with classroom training) used to attract a handful of people. Our recent online yacht class AIMU, in partnership with Ft. Lauderdale Mariners Club, was attended by more than 90 people, far exceeding our expectations. In comparison, the on-site yacht training normally attracted about 10 attendees. This will also reflect the appearance of new talent.
4. The digital strategy of the future
The COVID-19 highlighted the importance of digitalization of processes. However, what is clear is that the future will be digital. But what does this mean in practice? Marcus Broome, Platform Manager at Whitespace, has come across a variety of interpretations of the term 'digital'. He points out: 'We are all aware that 'digital' is the future, but often, companies think they have been 'digitized' when, in fact, they have simply exchanged media without changing the process, that is, What was a paper document delivered in person is now a PDF that is sent by email '.
If, on the other hand, an app runs smoothly on multiple devices (desktop, mobile) and allows all the necessary parts to complete their individual tasks online and in real time, chances are, notes Marcus, 'is experiencing a genuine digital technology experience. A real test for a compelling digital experience is whether it is intuitive, allowing customers to use it from day one without reading a manual or calling the help desk.
Marcus says, 'If we want to deliver a true digital experience, we need to create successful digital experiences that focus on end users. Every policy holder, almost without exception, is a digital user experienced with the proliferation of devices, websites and applications in their daily lives. However, technology itself has been perceived, particularly among commercial insurers, as an infrastructure used by their organizations, not by final insurers. In this sense, digital experiences have not been designed from the end customer's point of view.
Finally, for Andrew Yeoman CEO of Concirrus, with more than 300 years, the marine insurance industry has faced some major challenges: two world wars, stock market crashes and recessions, to name a few and now, of course, a global health crisis. He has demonstrated his resilience, and this is a testament to the passion, pride and integrity of the people who serve him.
However, unlike the crises of the past, in which the business largely continued, as it was, COVID-19 has accelerated changes that will have a profound effect on the way the industry operates now and in the future.