Maritime partnerships contributed to increased freight rates in the context of the pandemic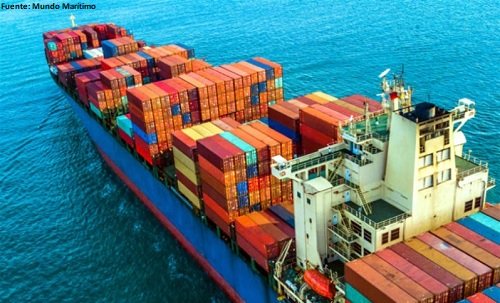 15/09/2020
However, a second wave of Covid-19 and the China-US relationship. remain a threat
https://www.mundomaritimo.cl/ – The shipping of containers has gone through the coronavirus pandemic (Covid-19) virtually unharmed, as shipping alliances and supply-side restrictions to tighten freight rates have helped operators to offset the tepid commercial demand. These new capacity management approaches will help the industry meet the long-term challenge of overcapacity in the coming years, reports S&P Global Platts.
In 2017, a fragmented sector of container shipping fortuitously began to consolidate. This culminated in the creation of three key alliances covering more than 80 per cent of the market. Maersk and MSC joined forces as part of the 2M alliance; CMA CGM, Cosco and Evergreen formed Ocean Alliance, while another group of industry actor, including Hapag Lloyd, ONE and Yang Ming formed THE Alliance.
When the pandemic began to hit world trade in March, these alliances were able to move quickly and decisively to reduce overcapacity and prevent a sharp drop in freight rates. Collectively, they have cancelled more than 400 itineraries this year, eliminating 10% of the nominal TEUs capacity from the active service.
Proof of success can be seen in robust freight rates, which have challenged economic pessimism. For example, the main Trans-Pacific route between North Asia and WCNA has remained solid, and Platts' container fare for that route actually increased from $450/FEU on January 3 to $2,050/FEU on June 3.
In addition, the revolution in capacity management has made shipping lines prepare for a record year. With the slow return on demand, freight rates have increased, and partnerships are already activating vessels at rest. This is also happening at a time when global demand for oil is low, which translates into much cheaper fuel costs for shipping lines than at the beginning of the year, when IMO regulations came into force by 2020, which allows shipping companies to maximize their profits at ports of call that would have been unthinkable in January.
On the Fundamental Trans-Pacific (China-United States) route, freight rates have reached their highest levels of the year to date and have significantly surpassed 2019 prices.
Fee 13 for Platts Container – covering North Asia up to WCNA – reached US$3,650/FEU on September 1, a record high for this trade route and an increase of 136% compared to September 2, 2019 (US$2,100/FEU). This comes as a result of the general tariff increases in September, as shipping lines rush to replenish stocks considerably depleted before China's Golden Week, And it seems that any hope for BCOs to see freight rates begin to fall by the end of the summer has faded, while shipping companies are willing to slam the door of business. This comes from an increase in demand, with time-sensitive goods such as personal protective equipment and homework equipment taking center stage, with consignors of these products still willing to pay to mobilize their goods as soon as possible.
Freed from the shackles that signify service cancellations, shipping lines are even employing extra vessels to pick up loads left at the dock by container ships unable to board more cargo, according to industry sources.
Shanghai, the world's largest container handling port, saw monthly container volumes reach an all-time high in July. The port handled 3.9 million TEUs in July, with an increase of 1.2% annually and 8.3% monthly, according to data from China's Ministry of Transport.
The semi-annual results have also highlighted the success of the shipping companies that prioritized returns over market share. Maersk's profits tripled between April and June at the time Covid-19 was in its first growth wave.
 Risks remain
However, maritime alliances cannot afford to be complacent. If a second wave of Covid-19 spreads, or political turmoil between the United States and China threatens world trade, shipping lines will have to show the same unity that has paid off so far this year.
Shipping containers are also being harassed by an increase in fleet size over the past decade. As the global economy is unlikely to return to full health soon, the sector is likely to need to cooperate closely on strategies to address overcapacity over the next decade.
According to BIMCO, demand outstripped the fleet in only three of the last 10 years, which means a much higher growth in supply capacity than demand. Fleet capacity in TEUs grew by 75.6%, while demand measured in volumes only increased by 46.1%. This imbalance left the container shipping market in worse shape at the end of the decade than at the beginning.
The success of the container industry this year in these conditions should give you the confidence and conviction to tackle your overcapacity problems.
See original article at: https://www.mundomaritimo.cl/
RELATED NEWS
22/09/2020
Insurance penetration grew to 2.4% of GDP, but the country is well below the 8% recorded by the OECD, said the finance secretary [...]
22/09/2020
The institution highlights the new technologies and infrastructure to handle cargo [...]
22/09/2020
Swiss Re has stayed at the top of the Top 50 Global Reinsurance Groups leaderboard, as significant growth in large non-life transactions helped the company increase its gross premiums written by 16% in 2019. [...]
22/09/2020
Colfecar projects that transporters will again mobilize up to 9.9 million tons at the end of the year. The association asks to suspend toll payments. [...]