Natural disasters damaged $210 billion in 2020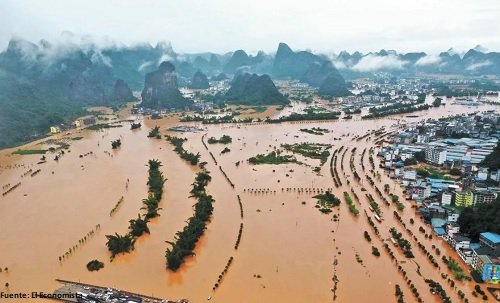 12/01/2021
Last year, the global average temperature was 1.2 degrees Celsius higher than pre-industrial levels, just 0.01 degrees below 2016, the warmest year on record.
https://www.eleconomista.com.mx/ – Natural catastrophes around the world caused $ 210 billion in damage in 2020, with the United States particularly affected by hurricanes and wildfires, German reinsurer Munich Re said.
The damage, calculated by the reinsurer Munich Re, exceeded the 166,000 million dollars of the previous year, at a time when global warming increases those risks.
The losses that were insured rose from 57,000 million in 2019 to 82,000 million dollars, according to Munich Re. These losses add to the burden of the coronavirus pandemic, which has hit the insurance industry hard.
Climate change will play an increasingly important role in all of these dangers, 'said Torsten Jeworrek, a member of the Munich Re Board of Directors, noting hurricanes, forest fires and other storms. 'It's time to act'.
Six of the costliest disasters occurred in the United States, which suffered the most active hurricane season.
The hurricane season was 'hyperactive', with a record of 30 storms, surpassing the 28 of 2005, said Munich Re.
Hurricane Laura, which made landfall in August in Louisiana with winds of 150 miles per hour, caused losses of $13 billion, of which $10 billion was insured.
Heat waves and droughts are fueling wildfires, with $16 billion in damage last year in the western United States.
The forest fires that broke out in the western United States covered an area four times larger than those caused in the period from 2015 to 2019.
The floods in China were the costliest individual loss, with $17 billion, although only 2% of the damage was insured.
In Europe, total losses amounted to $12 billion, of which $3.6 billion was insured. In addition to the heavy rains that hit the Mediterranean coasts of southern France and Italy in the autumn they destroyed hundreds of houses, bridges and roads in the process.
The second warmest year
In 2020 the global average temperature was around 1.2 degrees Celsius higher than pre-industrial levels, noted Munich Re, and only 0.01 degrees Celsius below 2016, the warmest year on record.
Last year's extreme climate fit 'with the expected consequences of a decades-long warming trend for the atmosphere and oceans that is influencing risks,' said Munich Re chief climate scientist Ernst Rauch.
For the original article see: https://www.eleconomista.com.mx/
RELATED NEWS
19/01/2021
Three out of 13 crew members dead, six rescued after a Palau-flagged cargo ship sinks in bad weather in the Black Sea. [...]
19/01/2021
Throughout the year 2020, the Panama Maritime Authority, through the registry of vessels of Panama has managed to reach a total of 230,577,081 GRT (gross registered tons), through the 8,516 vessels registered under the Panamanian flag. These figures represent growth 6.22%, compared to 217,083,822 GRT obtained by December 2019, according to data from the IHS Markit platform. [...]
19/01/2021
The 'crew change' system has collapsed internationally due to the coronavirus pandemic. Hundreds of thousands of sailors are still unable to leave their ships, without returning home and often without pay. [...]
19/01/2021
Although Fitch Ratings expects the return on capital of the reinsurance sector to improve notably in 2021, analysts warn that price improvements are likely to 'gradually fade' over the next 12-18 months on the back of ample capital and an elevated risk appetite. [...]