Gallagher Named for The 10th Consecutive Year As One Of The World's Most Ethical Companies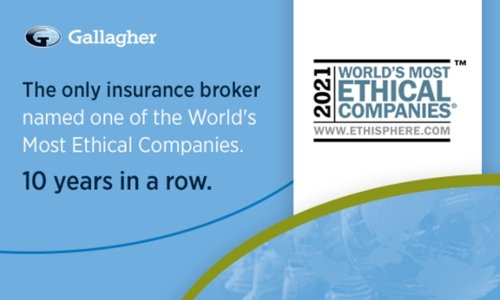 01/03/2021
Gallagher is the only insurance broker to be named as one of the 2021 World's Most Ethical Companies among 135 honorees spanning 22 countries and 47 industries.
Market Watch – 'We are truly honored to again be recognized as one of the World's Most Ethical Companies,' said J. Patrick Gallagher, Jr., Chairman, President and CEO. 'Since 1927, we have had a unique culture rooted in integrity, empathy and respect which is the heart of our entire organization. In an extraordinary year, 2020 brought more change than anyone could have anticipated — but it did not change our values and ethics, which are crucially important to our customers.  Today's announcement highlights our commitment to making people, communities and businesses a priority and helps them face their future with confidence.'
Methodology & Scoring
Grounded in Ethisphere's proprietary Ethics Quotient®, the World's Most Ethical Companies assessment process includes more than 200 questions on culture, environmental and social practices, ethics and compliance activities, governance, diversity and initiatives to support a strong value chain. The process serves as an operating framework to capture and codify the leading practices of organizations across industries and around the globe.
This year, the process was streamlines and question set expanded to gauge how applicants are adapting and responding to the global health pandemic, environmental, social, and governance factors, safety, equity, and inclusion and social justice.
The full list of the 2021 World's Most Ethical Companies can be found at https://worldsmostethicalcompanies.com/honorees
About the Ethisphere Institute
The Ethisphere® Institute is the global leader in defining and advancing the standards of ethical business practices that fuel corporate character, marketplace trust and business success. Ethisphere has deep expertise in measuring and defining core ethics standards using data-driven insights that help companies enhance corporate character and measure and improve culture. Ethisphere honors superior achievement through its World's Most Ethical Companies recognition program and provides a community of industry experts with the Business Ethics Leadership Alliance (BELA).
See the original article at: https://www.marketwatch.com/press-release/gallagher-named-for-the-10th-consecutiveyear-as-one-of-the-worlds-most-ethical-companies-by-ethisphere-2021-02-23
RELATED NEWS
13/04/2021
Los organismos de control de la competencia de todo el mundo han estado analizando el acuerdo sobre la fusión propuesta de Aon con su rival Willis Towers Watson para identificar si la fusión daría lugar a una reducción de los niveles de competencia en los mercados afectados, incluida la intermediación de seguros y reaseguros. [...]
12/04/2021
La declaración de Avería Gruesa por Shoei-Kisen, el propietario del Ever Given, significa que los cargadores deberán compartir los gastos relevantes incurridos en el rescate del barco para recuperar su carga. Se calcula que este es el caso de Avería Gruesa más grande que haya surgido en términos de la cantidad de intereses de propiedad diferentes. [...]
12/04/2021
Swiss Re anunció nuevas medidas para apoyar la transición a una economía neta cero, que abarcan tanto la gestión de activos y la suscripción como sus propias operaciones; entre los objetivos están la reducción de carbono para su cartera de inversiones del 35% para 2025 y la eliminación total del carbón térmico, además de un gravamen interno real de carbono de tres dígitos para sus propias operaciones. [...]
06/04/2021
El bloqueo del Canal de Suez, un número creciente de siniestros provocados por el hombre, la pandemia de COVID-19 y una serie de catástrofes naturales se suman a la presión al alza sobre las tasas de reaseguro marítimo, dijo James Vickers, presidente de la corredora de reaseguros Willis Re International. [...]