The RCEP keys, the world's largest free trade agreement (and how it affects Latin America)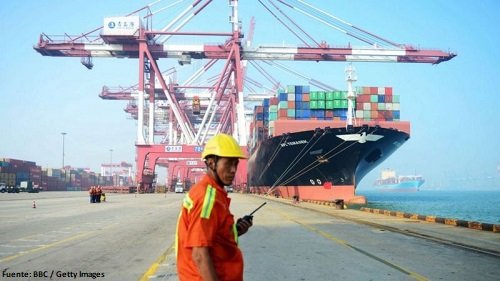 17/11/2020
After a decade in the making, the world's largest trade agreement is a fact. Asian leaders signed on Sunday in Hanoi the mega treaty that includes the ten members of the Association of Southeast Asian Countries (Asean) in addition to China, Japan, South Korea, Australia and New Zealand.
https://www.bbc.com/ – Among all the members are almost a third of the world's population and 29% of the planet's Gross Domestic Product.
The agreement, called RCEP (Regional Comprehensive Economic Partnership, Regional Economic Integration Partnership), will be larger than the T-MEC (United States, Mexico and Canada) and the European Union.
India was also part of the negotiations but withdrew last year because of its concern that tariff cuts would harm its producers.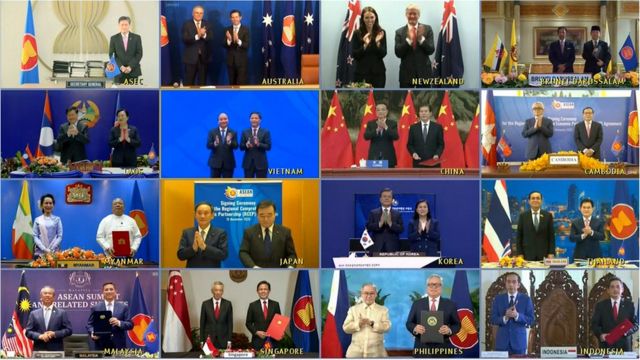 The new trade agreement is made up of 15 countries.
Many member countries already have free trade agreements with each other, but with limitations.
«Existing free trade agreements can be very complex compared to the RCEP», says Deborah Elms of the Asian Trade Centre, to Tim McDonald, BBC correspondent in Singapore.
Businesses that rely on global supply chains could be affected by tariffs, despite the existence of a free trade agreement, because their products had components made elsewhere.
A product made in Indonesia that contains parts manufactured in Australia, for example, could be taxed.
Under the RCEP, however, components from any member country will be treated equally, which could give companies from RCEP countries an incentive to partner with suppliers from the new regional alliance.
What is its geopolitical importance?
The RCEP idea was born in 2012 and was a way for China, the region's largest importer and exporter, to counteract the influence the US was taking in Asia-Pacific under Barack Obama.
Obama had promoted the Trans-Pacific Partnership (TPP), which included Mexico, Chile, and Peru, not China.
Interest in the RCEP grew when Trump withdrew from the TPP in 2017 to his country, which was the architect of the agreement and whose economy covered two-thirds of that of the block.
In fact, the trade war between the United States and China and the fact that Trump has privileged the «United States first» and ended Obama's idea of looking more towards Asia has served to boost and complete RCEP, which is seen as Beijing's opportunity to set the regional trade agenda in Washington's absence.
As a key source of imports and main export destination for most RCEP members, China appears to be the main beneficiary and is well positioned to influence trade rules and expand its influence in Asia-Pacific, something Obama wanted to prevent.
Will Biden's presidency change anything?
International trade was far less on the agenda in this presidential campaign and Biden has said relatively little about whether his trade policy will change significantly or whether he will reconsider entering the TPP.
Biden bets on returning to a policy of multilateralism, like Obama, but it is premature to talk about trade agreements given the enormous challenges he faces domestically.
And its risks being perceived as something that harms the unions that helped him win the industrial belt states.
Its trade priorities are expected to focus on working with partners to pressure China and force changes in the World Trade Organization.
Going back to what TPP was might not happen in the short term.
Trade unions and progressives who supported Biden's election have been skeptical about free trade agreements and representatives of these groups are present on their transition team. They may defend certain protections for vulnerable industries such as steel and aluminum.
If Biden decides to reconnect with Asia-Pacific, it could act as China's counterbalance.
How does it affect Latin America?
Bilateral trade between Asia and Latin America has grown steadily in recent decades, but integration between the two regions has much room for improvement.
«In the short term, the RCEP can cause some trade diversion, limit growth in trade between Latin America and Asia», says Jack Caporal, trade expert at the Center for Strategic & International Studies (CSIS), based in Washington, to BBC Mundo.
«However, the common rules will make it easier for Latin American companies with a presence in Asia to do business there», says Caporal.
«An important question for the countries of Latin America is whether they pursue integration with Asia individually or jointly as through the Pacific alliance (TPP) or Mercosur», he adds.
Since trade between Latin America and China exploded in the 2000s, led almost exclusively by China's rapid growth and its need for raw materials, countries in the region have sought greater integration with Asia in general, not only with China but in particular with Japan South Korea and India», says to BBC Mundo Cynthia Arnson, expert at the Wilson Center on relations between the two regions.
Arnson claims that was the spirit of the TPP, now decimated without the United States.
«Unless the Biden government returns to the TPP, Latin American countries will be attracted to the largest market share in Asia that is now represented by the RCEP», he adds.
Nicolás Albertoni, professor at the Catholic University of Uruguay and associate researcher at the International Policy and Security Laboratory of the University of Southern California, believes that it is a «disadvantage» for countries that are not part of this type of mega-agreements.
«It is key that the countries of Latin America (mainly in the Southern Cone) that are not parties go to the door and ask to be part of these agreements», he tells BBC Mundo.
«Little ambitious»
Although the RCEP was an initiative of the ten Asean countries, many consider it a Chinese-backed alternative to the TPP, a proposed agreement that excludes China but includes many Asian countries.
Twelve nations, including Chile, Mexico and Peru, signed the TPP in 2016 before Trump withdrew his country from the agreement in 2017.
Without the United States, the other countries signed the CPTPP.
Although it includes fewer countries, the CPTPP further reduces tariffs than the RCEP and includes provisions on employment and the environment.
Former Australian Prime Minister Malcolm Turnbull criticized the new deal as outdated.
«There will be a lot of hype about the signing and entry into force of the RCEP, but it's an ambitious trade agreement, we shouldn't fool ourselves», said Turnbull, who signed the TPP on behalf of his country.
Activists fear the lack of provisions to protect workers and the environment that harm farmers and small businesses at a time when they are already suffering from the pandemic.
Differences aside
On the positive side, RCEP unites countries that have often had thorny relations, such as China and Japan.
Both Australia and China join the agreement despite reports that China may boycott some imports from Australia due to political differences.
You can cooperate with someone or just hate them, like people do. The RCEP has done an impressive job of separating itself from other disputes», says Elms.
For the original article see: https://www.bbc.com/
RELATED NEWS
24/11/2020
External attacks on companies cause the most expensive losses of cyber-insurance. However, it is the mistakes of employees and technical problems that generate the most casualties by number. [...]
24/11/2020
La Línea naviera observó marcada recuperación de los volúmenes transportados [...]
24/11/2020
The US government is aware of at least 20 fishing vessels and 35 oil rigs and offshore supply vessels that have been targeted by pirates and armed thieves since January 2018 in the Bay of Campeche, south of the Gulf of Mexico, according to a maritime alert issued between 5 and 7 November this year; currently cancelled. [...]
24/11/2020
Beyond the scientific challenges in the development of these drugs, the eventual overcoming of the pandemic involves solving problems in the transport and effective distribution of these. How will this task be done? [...]