Competitive differences between US and Asian ports cause disruptions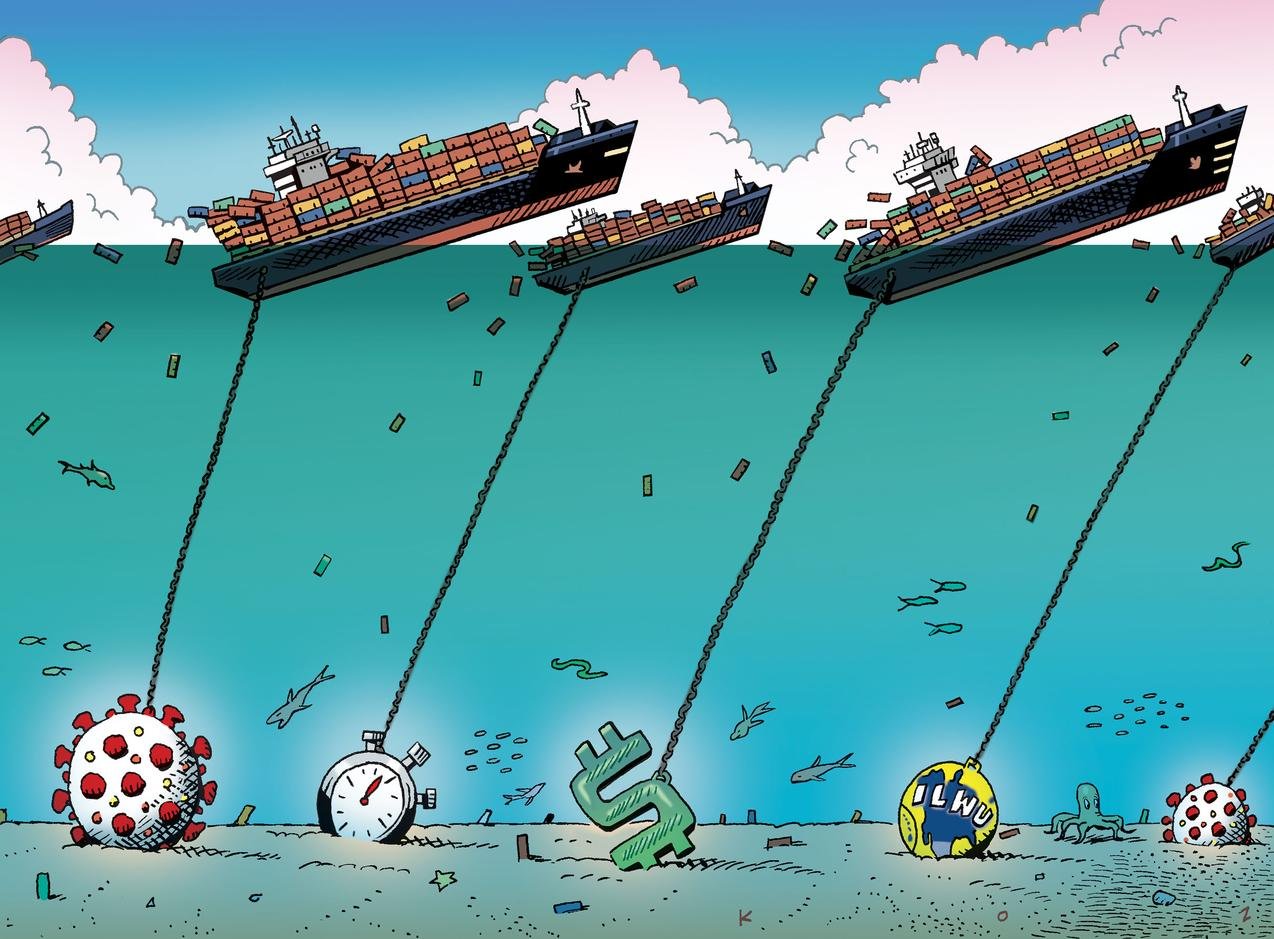 15/06/2021
The Wall Street Journal article details how, for more than a decade, the disruption of the flow of goods has occurred repeatedly in US ports, which are not productive enough to withstand disruptions caused by tense port labor relations, increased demand and international economic crises.
Wall Street Journal – US ports are heavily stressed, a problem that will not go away with the pandemic.
If at any point in the past seven months you looked out to sea from the Los Angeles-Long Beach container port complex, the largest in the U.S., you would see the problem: up to 40 container ships anchored, with nowhere to go. There's no space in the clogged ports. To put it another way, you're looking at as many as 100,000 containers—holding everything from running shoes and home electronics to frozen seafood and furniture—waiting to be unloaded and then shipped to factories, stores and homes across the country.
For more than a decade, disruption to the flow of goods has occurred repeatedly at U.S. ports, not to mention global incidents such as the Suez Canal blockage, container-ship infernos, fog-enshrouded ports and waves that send thousands of containers tumbling into the sea.
The pandemic triggered a shift in consumer spending away from travel to electronics and home-improvement goods. And then there's Covid-19's effect on the workforce: Many workers who received stimulus and unemployment checks are choosing to stay home, contributing to labor shortages at seaports and warehouses. That has slowed the normal circulation of containers back and forth from Asia, reducing capacity and driving freight rates to record highs. Pair that with surging traffic: The ports of Los Angeles and Long Beach, which together form the largest container gateway in the Western Hemisphere, have posted double-digit import volumes every month since August except January, according to IHS Markit data.
There are no solutions in sight. One problem is productivity. In Asia, ships are worked 24/7, or 168 hours a week, compared with 16 hours a day, or only 112 hours a week, at Los Angeles-Long Beach. Terminal gates used by truckers to deliver and receive seaborne containers operate only 88 hours a week, vs. 168 in Asia. For larger ships, it takes 24 seconds on average to move a container at the Chinese ports of Shanghai, Qingdao and Yantian, vs. 48 seconds at Los Angeles, according to IHS Markit port-performance data. It's worth keeping in mind that 42% of all containers arriving in the U.S. come from China. That leaves the port system chronically vulnerable to sudden increases in volume.
Another repeated cause of disruption is longshore labor. A decades-long history of toxic labor-management relations has led to huge cost increases that discourage operators from expanding work hours, limit their ability to automate terminals, and end in avoidable delays during contract negotiations. Many companies won't soon forget six months of costly delays at West Coast ports during contract negotiations with the International Longshore and Warehouse Union in 2014 and 2015. More than 30 container ships were backed up at anchor off the ports during that episode. Companies will be closely watching the next round of negotiations in 2022.
Finally, transport companies deploy capital in the form of ships, trucks, chassis, railcars and other assets as informed by their market view. Given that forecasting trade flows weekly is difficult—let alone anticipating pandemics, trade disputes and economic cycles—frequent imbalances in supply and demand, and delays, are the inevitable result.
As a result, fleet operators and shippers—and customers—have to accept periodic disruption. That means a greater focus instead on resiliency.
See the original article at: https://www.wsj.com/articles/behind-your-long-wait-for-packages-11622653994
RELATED NEWS
11/07/2022
All Aboard Alliance reúne a grandes líderes de toda la industria marítima y está enfocada en cómo enfrentar los desafíos estructurales en el sector de los seguros marítimos a largo plazo, viéndolos desde la diversidad, la equidad y la inclusión, para que el sector marítimo sea reconocido como un sector sostenible e innovador. [...]
06/06/2022
Excel es la herramienta de cálculo y organización de datos más usada por los suscriptores de Marine. Pero ¿se usa de forma abreviada o eficiente? A partir de junio de 2022, las compañías afiliadas a ALSUM contarán de forma gratuita con el apoyo técnico de la firma ACTActuarios. [...]
11/05/2022
Dada la gran expectativa que ha despertado el Congreso ALSUM 2022, el hotel sede será el Sheraton María Isabel de Ciudad de México 🇲🇽 , que nos permite un mayor aforo y espacios más amplios. [...]
31/01/2022
El pasado 21 de enero la Junta Directiva de ALSUM eligió a los integrantes de los comités técnicos de Carga y prevención de pérdidas y Cascos y responsabilidades marítimas de la Asociación para el periodo 2022-2023. [...]