[:es]
El Global Maritime Issues Monitor 2020, publicado por el Foro Marítimo Global en asociación con Marsh y la Unión Internacional de Seguros Marítimos (IUMI), proporciona información sobre los principales temas globales que enfrenta la industria marítima en 2020 y lo hará durante la próxima década.  
Este documento se basa en una encuesta realizada entre el 29 de abril de 2020 y el 8 de junio de 2020, que fue completada por tomadores de decisiones del sector privado, los gobiernos y la sociedad civil. La muestra representa una red diversa de actores marítimos de seis continentes. El monitor sirve para informar la toma de decisiones a largo plazo de los líderes marítimos de todo el mundo sobre el comercio marítimo mundial, que se ha visto significativamente afectado por el COVID-19.
Por primera vez, este tercer informe enumera las pandemias como uno de las 19 preocupaciones mundiales. No es sorprendente que las pandemias se ubiquen cerca de los primeros lugares en términos de impacto percibido y cerca de los últimos en términos de preparación del sector.
Pero no es el único problema al que se enfrenta el sector marítimo, ya que se considera que una crisis económica mundial tendrá el mayor impacto en la industria en los próximos diez años. Al igual que en la encuesta de 2019, las cuestiones climáticas y medioambientales siguen siendo un foco importante en 2020.
Problemas marítimos mundiales
La pandemia de COVID-19 revolucionó el mundo del sector marítimo en el primer semestre de 2020. Las acciones tomadas para enfrentar virus dieron lugar a graves interrupciones en las cadenas de suministro, el transporte marítimo y las economías.
Junto con las preocupaciones sobre la pandemia, los encuestados mencionaron problemas relacionados con las economías globales y la geopolítica, el medio ambiente, los ciberataques, y la digitalización. 
Los tomadores de decisiones dijeron que una posible crisis económica mundial es el tema que tendrá el mayor impacto en los próximos 10 años. Los problemas ambientales, que dominaron las respuestas a la encuesta de 2019, permanecieron en el top de la lista de preocupaciones, con la descarbonización del transporte marítimo en el segundo lugar. 
La nueva regulación ambiental, número cuatro en la lista, se convirtió por primera vez una elección de encuesta en 2019, junto con la descarbonización. En 2020, como en 2019, los encuestados clasificaron tres posibles problemas entre los 10 principales, un reflejo de la creciente comprensión que el cambio climático y los problemas ambientales relacionados tendrán consecuencias graves y duraderas para la industria marítima.
¿Qué impacto cree que tendrán los siguientes problemas sobre la industria marítima durante los próximos 10 años?
1 Impacto mínimo / 2 Impacto menor / 3 Impacto moderado / 4 Impacto mayor
[:en]
The Global Maritime Issues Monitor 2020 report, published by the Global Maritime Forum in partnership with Marsh and the International Maritime Insurance Union (IUMI), provides information on the major global issues facing the maritime industry in 2020 and is projected to do so over the next decade. Respondents are decision-makers who belong to a diverse network of maritime actors from six continents and who for the first time placed pandemics as one of the 19 major global concerns, along with problems related to global economies and geopolitics, the environment, cyber-attacks, and digitalization.
This document is based on a survey conducted between 29 April 2020 and 8 June 2020, which was completed by decision makers from the private sector, governments and civil society. The exhibition represents a diverse network of maritime actors from six continents. The monitor serves to inform the long-term decision-making of maritime leaders around the world on global maritime trade, which has been significantly affected by COVID-19.
For the first time, this third report lists pandemics as one of the 19 global concerns. Not surprisingly, pandemics are near the top in terms of perceived impact and near the bottom in terms of sector readiness.
But it is not the only problem facing the maritime sector, as it is considered that a global economic crisis will have the greatest impact on the industry in the next ten years. As in the 2019 survey, climate and environmental issues remain a major focus in 2020.
Global maritime issues
The COVID-19 pandemic upended the global maritime sector in the first half of 2020, as it did every corner of the world economy. Actions taken by individual businesses; local, regional, and country governments; and world bodies aimed to slow the virus' spread, but also led to severe disruptions in supply chains, maritime shipping, and global economies.
Along with concerns about the pandemic, respondents mentioned problems related to global economies and geopolitics, the environment, cyberattacks, and digitization.
Decision makers said a possible global economic crisis is the issue that will have the greatest impact in the next 10 years. Environmental issues, which dominated responses to the 2019 survey, remained at the top of the list of concerns, with the decarbonization of shipping in second place.
The new environmental regulation, number four on the list, became for the first time a poll election in 2019, along with decarbonization. In 2020, as in 2019, respondents ranked three potential problems among the top 10, a reflection of the growing understanding that climate change and related environmental problems will have serious and lasting consequences for the maritime industry.
What impact do you think the following problems will have on the maritime industry over the next 10 years?
1 Minimum impact / 2 Minor impact / 3 Moderate impact / 4 Major impact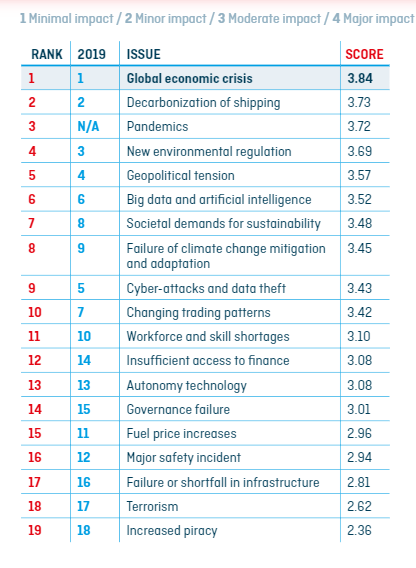 [:pb]
O Global Maritime Issues Monitor 2020, publicado pelo Fórum Marítimo Global em associação com a Marsh e a União Internacional de Seguros Maritimos (IUMI), fornece uma visão sobre as principais questões globais enfrentadas pela indústria marítima em 2020 e o que poderá acontecer na próxima década.
Este documento é baseado em pesquisa realizada entre 29 de abril de 2020 e 8 de junho de 2020, que foi respondida por tomadores de decisão do setor privado, governos e sociedade civil. A amostra representa uma rede diversificada de atores marítimos de seis continentes. O monitor serve para informar a tomada de decisões de longo prazo por líderes marítimos em todo o mundo sobre o comércio marítimo global, que foi significativamente afetado pelo COVID-19.
Pela primeira vez, este terceiro relatório lista as pandemias como uma das 19 preocupações globais. Não é de surpreender que as pandemias se classifiquem perto do topo em termos de impacto percebido e perto do último lugar em termos de preparação do setor.
Mas não é o único problema que o setor marítimo enfrenta, visto que se espera que uma crise econômica global tenha o maior impacto sobre o setor nos próximos dez anos. Assim como na pesquisa de 2019, as questões climáticas e ambientais continuam sendo o foco principal em 2020.
Problemas marítimos globais
A pandemia COVID-19 revolucionou o mundo do setor marítimo na primeira metade de 2020. As ações tomadas para combater os vírus resultaram em graves interrupções nas cadeias de abastecimento, transporte e economias.
Junto com as preocupações sobre a pandemia, os entrevistados mencionaram questões relacionadas às economias globais e geopolítica, meio ambiente, ciberataques e digitalização.
Os tomadores de decisão disseram que uma potencial crise econômica global é a questão que terá o maior impacto nos próximos 10 anos. As questões ambientais, que dominaram as respostas da pesquisa de 2019, mantiveram-se no topo da lista de preocupações, com a descarbonização do transporte marítimo a seguir.
O novo regulamento ambiental, o número quatro da lista, se tornou uma escolha eleitoral em 2019, junto com a descarbonização. Em 2020, assim como em 2019, os entrevistados classificaram três questões potenciais entre as dez primeiras, um reflexo da crescente compreensão de que as mudanças climáticas e as questões ambientais relacionadas terão consequências graves e duradouras para a indústria marítima.
Que impacto você acha que as questões a seguir terão na indústria marítima nos próximos 10 anos?
1 impacto mínimo / 2 impacto menor / 3 impacto moderado / 4 impacto maior
[:] 
[:es]
El mayor cambio en las opiniones de los encuestados sobre la probabilidad de preocupaciones que surgieron fue en torno a una crisis económica mundial, que saltó del número 10 en 2019 al número dos este año. Esto no es una sorpresa dadas las implicaciones económicas de la Pandemia de COVID-19. El segundo mayor cambio en las clasificaciones de probabilidad en comparación con 2019 se produjo en relación a los aumentos en el precio del combustible, que ahora los encuestados ven como menos probable, por lo que cayó del número 7 el año pasado al 11 este año.
 Impacto del COVID-19
En general, en las respuestas de la encuesta y los comentarios de expertos externos, hubo un reconocimiento del profundo impacto que tendrá COVID-19 en la industria marítima.
El 93% de los encuestados dijo que una pandemia aumenta la probabilidad de una crisis económica mundial. Esto subraya la naturaleza interdependiente de la industria marítima y la economía mundial.
El 73% de los encuestados cree que la pandemia aumenta la probabilidad de que se produzcan tensiones geopolíticas. En particular, los encuestados anticipan una escalada en el conflicto entre Estados Unidos y China.
El 72% piensa que es más probable que cambien los patrones comerciales. Los encuestados prevén más regionalización, casi apuntalamiento, producción nacional de bienes esenciales, menor dependencia de China y más.
 Será fundamental que la industria considere los impactos en la salud mientras evalúa su respuesta al COVID-19, particularmente los problemas de bienestar físico y mental de la gente de mar", dice Marcus Baker, Global Specialty Head, Marine & Cargo, Marsh JLT Specialty.
Principales temas en 2020
Los riesgos para la salud y la seguridad de la gente de mar son una gran preocupación
Muchos encuestados y comentaristas externos señalaron que el bienestar físico y mental de la gente de mar se pasó por alto durante la pandemia, con muchos marinos atrapados a bordo de los barcos, sin poder reunirse con sus familias en casa.
Las cuestiones medioambientales y de sostenibilidad siguen siendo una prioridad
Los líderes de la industria parecen preocupados de que una crisis económica mundial reduzca la capacidad de la industria, o al menos lo haga más difícil, para realizar las inversiones necesarias para descarbonizar.
Al mismo tiempo, sienten que la pandemia aumentará la presión para hacer que su negocio sea más sostenible y resistente.
Aumentan las tensiones económicas y geopolíticas
Una crisis económica mundial pasó de ser una respuesta «probable» a una dura realidad debido al COVID-19.
Los expertos comentaron que la industria del transporte marítimo enfrenta una creciente interferencia política en el comercio, junto con un mayor nacionalismo.
La digitalización es prometedora
Se considera que COVID-19 acelerará la digitalización: el 35% de los encuestados dijo que ha hecho más probable el desarrollo de big data, inteligencia artificial y tecnología autónoma.
Perfiles de los encuestados:
El 49% de las personas que respondieron pertenecían a una naviera.
El 54% eran Directores Ejecutivos y el 17% hacía parte de la Junta Directiva
60% de los encuestados esta basado en Europa, el 20% en Asia, el 14% en Norteamérica y el 1% en Latinoamérica.
El 91% eran hombres y el 9% mujeres.
El rango de edad entre los 45 a 64 años corresponde al 74% de las personas que atendieron la encuesta.
Descargue el reporte en: https://www.maritimeissues.org/
[:en]
The biggest change in respondents' opinions about the likelihood of concerns that arose was around a global economic crisis, which jumped from number 10 in 2019 to number two this year. This is not a surprise given the economic implications of the COVID-19 Pandemic. The second largest change in probability rankings compared to 2019 occurred in relation to increases in fuel prices, which now respondents see as less likely, so it dropped from number 7 last year to 11 this year.
Impact of COVID-19
Overall, in the survey responses and comments from external experts, there was recognition of the profound impact that COVID-19 will have on the maritime industry.
Ninety-three per cent of respondents said that a pandemic increases the likelihood of a global economic crisis. This underlines the interdependent nature of the maritime industry and the global economy.
Seventy-three per cent of respondents believe that the pandemic increases the likelihood of geopolitical tensions. Respondents anticipate an escalation in the US-China conflict.
72% think trade patterns are more likely to change. Respondents expect more regionalization, near shoring, domestic production of essential goods, less dependence on China, and more.
It will be critical for industry to consider health impacts as it assesses its response to COVID-19, particularly the physical and mental well-being problems of seafarers, 'says Marcus Baker, Global Specialty Head, Marine & Cargo, Marsh JLT Specialty.
Main themes in 2020
Risks to the health and safety of seafarers are a major concern
Many respondents and external commentators noted that the physical and mental well-being of seafarers was overlooked during the pandemic, with many seafarers trapped on board the ships, unable to reunite with their families at home.
Environmental and sustainability issues remain a priority
Industry leaders seem concerned that a global economic crisis will reduce the industry's capacity, or at least make it more difficult, to make the investments needed to decarbonize.
At the same time, they feel that the pandemic will increase the pressure to make their business more sustainable and resilient.
Growing economic and geopolitical tensions
A global economic crisis went from being a 'probable' response to a harsh reality due to COVID-19.
Experts commented that the shipping industry faces increasing political interference in trade, along with increased nationalism.
Digitalization is promising
COVID-19 is considered to accelerate digitization: 35% of respondents said it has made the development of big data, artificial intelligence and autonomous technology more likely.
Profiles of the respondents:
49% the respondents were from a shipping line.
54% were Executive Directors and 17% were on the Board of Directors
60% of respondents are based in Europe, 20% in Asia, 14% in North America and 1% in Latin America.
91% were men and 9% were women.
The age range between 45 and 64 years corresponds to 74% of the people surveyed.
Download the report at: https://www.maritimeissues.org/
[:pb]
A maior mudança nas opiniões dos entrevistados sobre a probabilidade de preocupações que surgiram foi em torno de uma crise econômica global, que saltou do número 10 em 2019 para o número dois neste ano. Isso não é uma surpresa, dadas as implicações econômicas da Pandemia COVID-19. A segunda maior mudança nos rankings de probabilidade em relação a 2019 veio em relação aos aumentos nos preços dos combustíveis, que os entrevistados agora veem como menos prováveis, caindo do 7º lugar no ano passado para 11º neste ano.
Impacto do COVID-19
No geral, nas respostas da pesquisa e comentários de especialistas externos, houve o reconhecimento do profundo impacto que o COVID-19 terá na indústria marítima.
93% dos entrevistados disseram que uma pandemia aumenta a probabilidade de uma crise econômica global. Isso ressalta a natureza interdependente da indústria marítima e da economia global.
73% dos entrevistados acreditam que a pandemia aumenta a probabilidade de tensões geopolíticas. Em particular, os entrevistados antecipam uma escalada no conflito entre os Estados Unidos e a China.
72% acham que os padrões de negociação são mais propensos a mudar. Os entrevistados preveem mais regionalização, quase linha costeira, produção doméstica de bens essenciais, menos dependência da China e muito mais.
Será fundamental para a indústria considerar os impactos na saúde ao avaliar sua resposta ao COVID-19, particularmente as questões de bem-estar físico e mental dos marítimos ", disse Marcus Baker, Diretor de Especialidade Global, Marinha e Cargo, Marsh JLT Specialty .
Principais temas em 2020
Os riscos para a saúde e segurança dos marítimos são uma grande preocupação
Muitos entrevistados e comentaristas externos notaram que o bem-estar físico e mental dos marítimos foi esquecido durante a pandemia, com muitos marítimos presos a bordo dos navios, incapazes de se reunir com suas famílias em casa.
As questões ambientais e de sustentabilidade continuam sendo uma prioridade
Os líderes do setor parecem preocupados que uma crise econômica global reduza a capacidade do setor, ou pelo menos torne mais difícil, fazer os investimentos necessários para descarbonizar.
Ao mesmo tempo, eles acreditam que a pandemia aumentará a pressão para tornar seus negócios mais sustentáveis e resilientes.
Aumentam as tensões econômicas e geopolíticas
Uma crise econômica global deixou de ser uma resposta "provável" para ser uma dura realidade devido ao COVID-19.
Os especialistas comentaram que a indústria naval enfrenta uma crescente interferência política no comércio, junto com o aumento do nacionalismo.
A digitalização é promissora
A COVID-19 é vista como aceleradora da digitalização: 35% dos entrevistados disseram que ele tornou o desenvolvimento de big data, inteligência artificial e tecnologia autônoma mais provável.
Perfis dos entrevistados:
49% das pessoas que responderam pertenciam a uma empresa de navegação.
54% eram Diretores Executivos e 17% faziam parte do Conselho de Administração
60% dos entrevistados estão baseados na Europa, 20% na Ásia, 14% na América do Norte e 1% na América Latina.
91% eram homens e 9% mulheres.
A faixa etária entre 45 a 64 anos corresponde a 74% das pessoas que participaram da pesquisa.
 
Baixe o relatório em: https://www.maritimeissues.org/
[:]